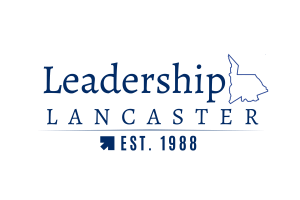 Do you know a professional that would be great for Leadership Lancaster?
What is the objective of Leadership Lancaster?
Identify and develop current and future community leaders for Lancaster County.
Using the community as a classroom, participants are exposed to diverse areas of the community, access to a broad range of local leaders, and opportunities for their personal growth.
Who is the ideal Leadership Lancaster candidate?
Established professionals
Newly hired professionals
Aspiring young professionals
Objectives of Leadership Lancaster
Identify and develop current and future community leaders from our various geographic, ethnic, occupational, and economic backgrounds for Lancaster County
The seven-month program is designed to both challenge and educate potential community leaders with an in-depth, balanced understanding of opportunities, goals, and needs of the community.
Foster a high level of civic and community awareness and personal involvement in the community.
Assist in placing Leadership Lancaster graduates in positions of community leadership and involvement.
Leadership Lancaster, a program of the Lancaster County Chamber of Commerce, is designed to develop a pool of qualified, highly motivated leaders for Lancaster County companies with a desire to serve the community. The program is designed to help participants acquire an understanding of the issues facing the Lancaster County area and gain leadership skills necessary to help resolve them. Candidates come from a cross-section of the community – men and women from different political, career, educational, social and cultural backgrounds.
To challenge and educate potential community leaders capable of providing dynamic leadership for Lancaster County companies with a passion for service to the community.
Using the community as a classroom, Leadership Lancaster participants are introduced to diverse areas of the community as well as a broad spectrum of community leaders. Leadership Lancaster is the premier program for existing and emerging leaders in Lancaster County and boasts over 1,000 graduates in its 33 year history.
Participants accepted into Leadership Lancaster are involved in a balanced combination of retreats and day-long, hands-on learning events over the course of the seven-month program. Area decision makers, industry, government, and community leaders offer their time and expertise while tours and interactive exercises are built into each day.
Understanding the issues, impacts and implications that affect Lancaster County now and in the future.
Greater knowledge of the region, its history and its leaders.
Access to decision makers and business and community leaders.
A commitment to creating a better community.
An informed network of diverse colleagues for individual, business and community problem solving.
Increased leadership skills.
Increased employee leadership skills and knowledge of regional issues that positively impact organizational effectiveness.
Exposure to other community leaders who are committed to Lancaster County.
Opportunity to position a business as an organization committed to the community.
Networking opportunities that can help with business solutions.
A pool of committed community leaders to serve as board members and volunteers.
A talented group of leaders who can be called upon for solutions to community issues.
Mentors to help motivate and educate aspiring young leaders.
The Chamber begins accepting Leadership Lancaster applications in July for the upcoming class.  Classes start in November and run for seven months with graduation in May of the following year.  Those interested in applying for Leadership Lancaster can access the application at the link below.  Class sizes are limited, so candidates should complete and submit the application as soon as applications are accepted July 1st.